Future/Xeno Makoto
Attachment:
image.jpeg [ 32.56 KiB | Viewed 7203 times ]
"Allow me to show you the difference between a Senshi and a
god.
"
An alternate timeline version of Sailor Jupiter who abandoned her duties as a Senshi, and the fiancee of Future Yua. Having becoming a Goddess herself, she has extremely potent magic beyond control over thunder (though that is by far, still her specialty). She's also seemingly gone off the deep end, as she's sort of evil...
Evidently, she had to kill the possessed Princess Serenity herself, with the very sword that Princess Serenity had used to end her own life a thousand years prior. (At that point, it was basically the only option there was. Better to kill their princess than let her be used for evil.) This is probably what shook her to her very core and caused her turn to darkness. As for her husband, his brother was killed by the possessed Serenity, so yeah, he kinda went nuts too.
She's somewhat of a control freak, as any Senshi in the universe, regardless of who they are, who refuses to submit to her usually ends up dead.
While her magic is potent, she can also use it to warp time and space and summon up people to help her cause. This can range from people Sailor Moon has defeated in different timelines (such as Queen Badiane or Fiore), to people who have absolutely NO business being in the world of Sailor Moon otherwise. (Such as Turles, Cinder Fall, and Riku Replica.)
Both her, and her husband, also have the ability to command the mysterious Goku Black. And nobody is quite sure just
what
he actually is, or how he was created...
All that is known is that he claims that he has personally killed hundreds of Senshi (including the Hina of this Makoto's timeline, she never stood a chance.) by "the Will of the Gods", and that he has a unique transformation which he nicknames "Super Saiyan Rose."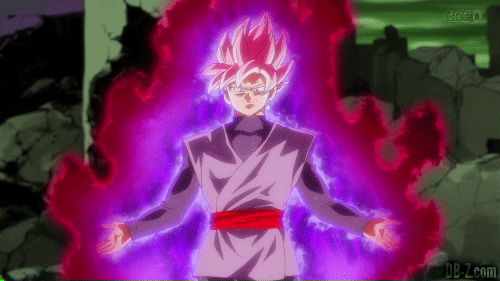 To further add to the mystery, despite looking very much like Goku, he has several very unique abilities. He can magically materialize random objects such as a wine glass or cherry blossoms, and also condense the aura around him to cloak his hand in an energy blade or energy scythe.