I've decided to draw a comic about how Chibiusa becomes Neo Sailor Moon in the future Crystal Tokyo. It takes place 11 years after the Black Moon Clan attacks Crystal Tokyo. Sailor Pluto had brought the Amazoness Quartet through time to become Chibiusa's sailor team. Sailor Uranus and Sailor Neptune have been on Nemesis trying to create order and were attacked by a mysterious villain and Sailor Neptune went missing. Sailor Uranus returned to Earth with Droids following her and attacking Crystal Tokyo. Uranus has been upset since losing Neptune and has been harsh with killing Droids so Neo Queen Serenity has sent Chibiusa's team to clean out the Droid problem.
Here is a comic page I randomly did today for the story. It's in my american style so you read it left to right.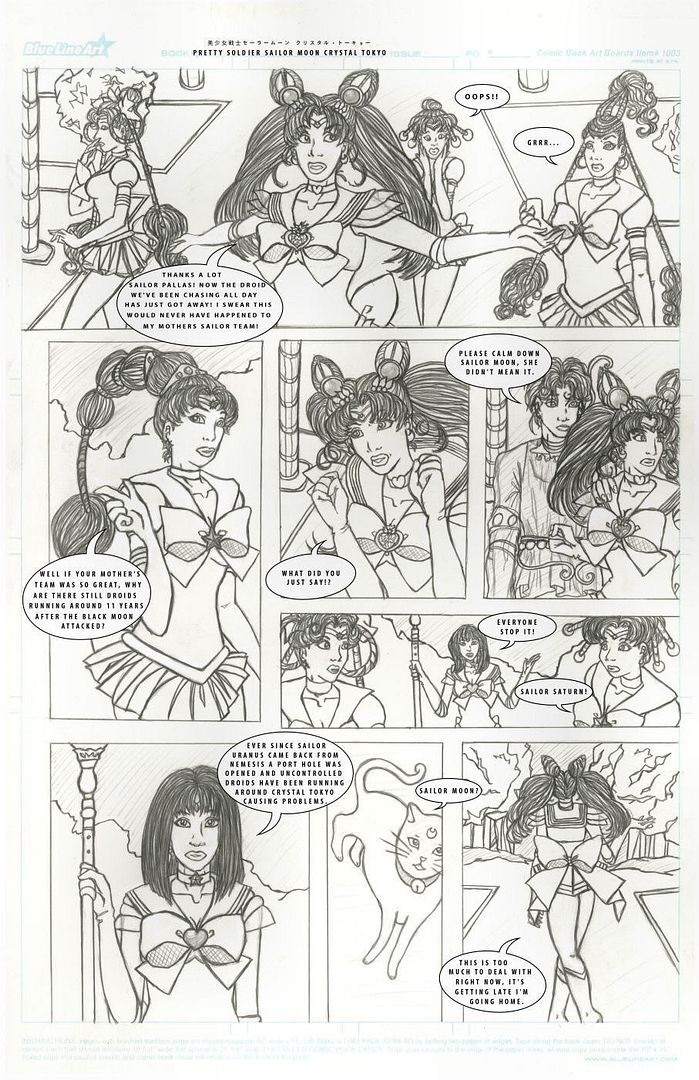 Neo Sailor Moon is arguing with the Sailor Quartet about letting a Black Moon Droid get away. I've also added Perle to the story (who you can see trying to calm Chibiusa).
I didn't want Chibiusa to be in her Eternal costume just yet. I'm not sure if I will have enough time to draw all of the story. I have many ideas going through my head like making Neo Queen Serenity eventually become Sailor Cosmos. I also want to create a new villain (whom attacks Neptune and Uranus on Nemesis).