As a collector, I, personally, prefer licensed merchandise. That's just me. However, like many collectors, and buyers, I feel like bootleg merchandise is a slap in the face. This thread is going to be dedicated to pointing out bootleggers of SAILOR MOON ITEMS ONLY. To keep it as an AWARENESS thread and not a BASHING thread, lemme drop some rules in this peace:
1.
What is considered a bootleg?
Any item being sold that is intentionally being passed off as the real deal. Intentionally trying to rip off Bandai and Toei.
Example- DVDs, SH Figuarts Sailor Moon Figure
2.
What is not considered a bootleg?
Any item, such as a cosplay prop or hand made jewelry, that does not try to pass their product off as official merch. This has caused a bit of a tug-o-war, so to speak, in the past. However, I have never seen someone sell off a handmade cosplay item as a licensed product. Also, people who create SM inspired jewelry. They don't claim it's licensed, they don't claim it's legit merch, and they deny affiliation with Bandai or Toei.
Example- KumaCrafts, jewelry and prop maker.
3.
What do I do?
Say you see someone selling a bootleg item, like the SH Figuarts Figures, take a screenshot of the item and who is selling it. Under no circumstances is anyone allowed to harass this seller. I've said this before- The best way to hurt a bootlegger is to not buy from them.
Spotting a Bootleg
A) One of the easiest ways to spot a bootleg is if there is a Toei licensing sticker isn't present. Here is what the Toei Stickers look like:
**Note- They often come in different colors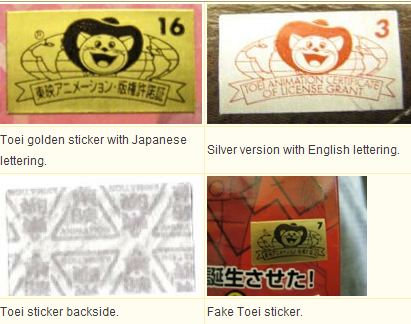 ***Not all licensed merchandise will have the Toei sticker, but for the most part, it will.
A-2)
Fake Toei Stickers
Yep. That's the sad reality we live in. Here is more information:
Real vs Fake Toei Stickers
B) It just doesn't look right. There's something off about it. The painting is junky, the faces look weird, it's all distorted.
**Note- Some figures... are actually like that, BUT NOT ALL OF THEM.
***This is curtesy of one of my favorite tumblr's "SailorMoonBootlegs"
C) My Eternal Tier is pink? I thought it was white? Why does it play ChibiMoon's Pink Sugar Heart Attack music?
**I... actually owned this. I got it in a lot, along with its counterpart- ChibiMoon's Heart Rod. ChibiUsa's bootleg is the ONLY one I actually like. I would not have purchased it alone, but a lot is a lot is a lot. They were complete rips of the Sailor Moon World release of the toys.
***If it says Magic Stick- Run
*Image curtesy of Prinsesaian.
This isn't a place to post photos of bootleg merch for fun. There is another thread for that HerRRree
These are just a few ways to spot bootlegs. You have to use your judgment, do your research, and just be mindful of what you buy.